Written on Saturday, mostly:
Today's been a very good, relaxing day. I paid my electric and gas bills this morning at the nearby MiniStop convenience store (
konbini
) and also filled up my rechargeable calling card. After that, I talked to my father on the phone for a little while. Soon thereafter, I surprised some friends back home with my first landline call to them. (Oh, the look on their faces! (Probably.))
I then walked to the ATM to pull out some money (you know, it doesn't seem that my bank back home is charging me for these transactions) and then walked a little farther to Aeon, the mall about a mile or so away. Specifically, I was going to buy pencil leads. (Unbelievably, Daiso, 100-yen store right by my house sells 0.7 and 0.9 mm mechanical pencils (
shaapu penshiru
) but only 0.5 mm leads.) I ended up buying some red lead, which I didn't know existed. (At one point, I asked the ladies working behind the counter which was darker, H or B leads. "HとBと、どちらが黒いですか," I said. I don't think asking which was one "blacker" was technically correct, but it's getting the point across that most important. (「くらい」はいい?))
And that's where it happened. I played
New Super Mario Bros.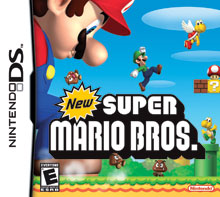 There was a Nintendo DS Lite on display with a demo of the game. This was definitely another one of
those
moments. Another guy beat me to the kiosk and I watched over his shoulder for what must have been almost 10 minutes. Poor Mario died about three times. Suddenly, in the middle of a stage, the game reset itself to force him to stop. (He said something and I replied with 「残念だね」 (Disappointing, huh?").) Then it was my turn.
It was pretty fun to play a new old-school Mario game for the first time in over a decade. I started from the beginning of the game and I'm proud to say that I didn't die once. I actually fell down a pit but
wall-jumped
my way out of it. Wall-jumped! That was awesome. I made it all the way to the first castle. Actually, thinking about it, I did die here (in a section with a pipe that shoots you up—I got squished). But I managed to make it to the top of the level, put on a Nokonoko shell, and face Bowser Junior (who's just not as interesting as his father). The game reset just as I hit Junior with my turtle-based powers for the last time. I've still got it.
Man, I want that game. Oh well, one day. It was a great opportunity. In fact, I should head up there again soon. It looks like a pretty good game indeed.
It kind of reminds me of when my parents got my first NES way back when.
Super Mario Brothers
was very new back then. Good times, those.
I need to go eat and study right now, though.